Julie's Treasures and REVONU POS: Aye, the Perfect Match!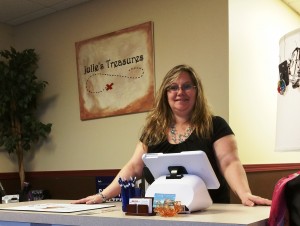 REVONU POS is making a huge impact on the POS community, and to talk about why, we asked Julie Nelson, owner of Julie's Treasures in Minnesota, a retail consignment store,  what she thinks about her new REVONU POS system and COCARD.
COCARD: What made you choose COCARD for your payment processing?
Julie: COCARD was recommended to me by the previous owner.
COCARD: Was the previous owner already using REVONU?
Julie: No, he didn't have a POS system to run the business. But I definitely wanted to utilize one. The previous owner mentioned that COCARD had POS systems available and I really liked REVONU.
COCARD: So it seems like REVONU has made your business easier to manage! Could you give me some examples as to how REVONU has improved the operation of your business?
Julie: REVONU has made a positive difference! After getting REVONU, it has been easier to keep track of sales as it can sometimes be difficult to keep track of consignors. We also have two different shipping services that are out of the office, so we rely on REVONU to keep those organized. It is very important that we keep track of who we are selling to and who to pay!
COCARD: Would you say REVONU does a good job at catering to a retail business, such as Julie's Treasures?
Julie: Yes
COCARD: Is it relatively easy for you to keep your inventory organized using REVONU?
Julie: Yes
COCARD: If you could see one feature be added/changed to REVONU what would that be?
Julie: Honestly, I haven't encountered any issues!
COCARD: What is your favorite aspect of REVONU?
Julie: My favorite aspects are the sales tracking and the back office management options as well has being able to get support for REVONU and my merchant services account in one place with one call!
COCARD:  Thank you Julie for taking the time to speak with us today!  
Is REVONU POS right for your business?  Give us a call to set up a demo, we love to show it off!  800-318-1819