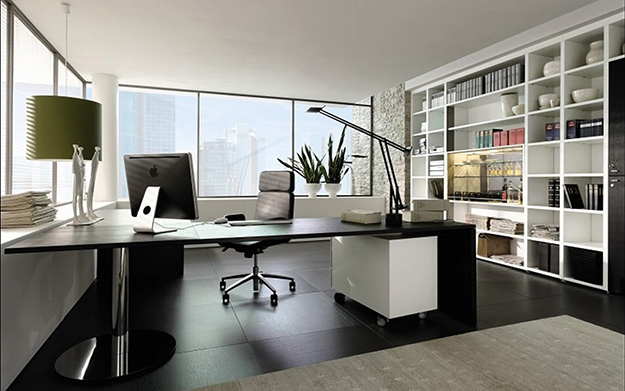 You've avoided using harsh lighting in your business and painted your walls in soothing colors, but since opening several years ago, you've done little to change your office's appeal—both to yourself, your employees and to potential clients. Improve your office's productivity, and lend your business a much-needed face lift with a few of these easy, cost-effective suggestions:
Bring in the plants. Feng Shui—a Chinese philosophy that focuses on arranging a room according to its energy—puts heavy emphasis on the importance of bringing the outdoors indoors. Besides the aesthetic element, a few large, leafy plants can lend to an overall sense of calm.
Try out those stand-up desks. If you are like most businesses, you and your employees spend a good deal of time re-adjusting your office chairs, stretching and massaging aching necks. Studies have shown that the sedentary office environment does not do well for overall health (even for those people that are active outside of the office). In fact, if you sit at a desk for more than four hours a day, you boost your risk of contracting heart problems by 125%. Yikes! Which may be why so many mega corporations (Google, Apple, Boeing, Intel) are opting for standing desks instead. Not only do they take the strain off of the neck, shoulders and back, but companies are finding that this new work structure increases productivity, too. Start with one for you, and if you like how you feel, slowly incorporate them for all of your employees.
Consider repainting your office. A fresh coat of paint can work wonders on a room and on the office's mood. Opt for soothing hues like mossy green, pale blue and earth tones.
Instead of black and grey notebooks, staplers and pencil cups, go for fun, vibrant office supplies where you can afford them. Poppin has an entire line of funky office goods with a low price tag.
 Swap out family photos for art. Sure, a few family photos on your desk is fine, but putting them all over the walls of the office is overkill. Look for nature photography and pieces by local artists to spruce up your work space. You can save huge money (and encourage office camaraderie) by blowing up vacation photos you and your employees have taken on various trips. Place them in over-sized frames and, voila! You've got a brand new look!
Do you have a Feng Shui office environment? Share your pics @cocardatlanta.